Coaching Youth Basketball: Ages 8-11
On-line drills and training videos for recreational, travel, PAL and AAU players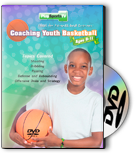 There's an entire season of basketball knowledge and leadership information for parents and coaches in this video series. Bill Thom and Jim Datka, two of the country's leading high school boys' coaches, share over 50 drills and skills demonstrations designed specifically for youth basketball players. The program follows an intuitive, thematic format and includes everything you need to teach players how to dribble, pass, shoot, play defense and run offensive sets the right way. Your purchase also includes access to downloadable training notes and coaching tips for each drill.
Coaching Youth Basketball: Ages 8-11
Coaching Youth Basketball: Ages 8-11
Topics Covered
Shooting
Dribbling
Passing
Defense
Offensive Drills
and Strategy
Perfect for Teams and Leagues
Topic-by-topic instruction
for the whole season
Provides consistent training for all parents, coaches and volunteers
Great for both boys and girls' teams, clubs and leagues!
FREE PREVIEW from the Series: Coaching Youth Basketball: Ages 8-11
Intensity Layups
Intensity Layups
Once players can control the ball, you can introduce the basic shot, the layup. Walk them through this until they feel comfortable. This may take a few weeks to perfect, but it's important to instill good fundamentals.
This video is one of over fifty great basketball drills in our training series, Coaching Youth Basketball: Ages 8-11.
This looks really great and something coaches can easily use for drills with the younger kids. Your video segments were perfect… quick and to the point.
-Coach B
Cranbury-Plainsboro Little League
Table of Contents
Shooting
Introduction to Shooting
Form Shooting
3 Spot Form Shooting
3 Spot Form Shooting: Guide Hand
Back to the Basket
Intensity Layups
Mikan Drill
Two-Man Layups
V-Cut High, Shoot Low
V-Cut Low, Shoot High
Cone Shooting
5 Spot Shooting
Shooting Off Downscreen
Four Square Shooting
Curling to Short Jump Shot
Curling to Elbow Jump Shot
Dribbling
Introduction to Dribbling
Stationary Dribbling: Right-Hand Pound Dribble
Stationary Dribbling: Low Pound Dribble
Stationary Dribbling: Rocker
Stationary Dribbling: Fake Crossover
Dribbling on the Move, Speed
Dribbling on the Move, Hesitation
Dribbling on the Move, Crossover
Dribbling on the Move, Fake Crossover
Dribble Tag
Passing
Introduction to Passing
Passing Across
Passing Stationary
Bounce Passing Stationary
Overhead Passing Stationary
Baseball Passing Stationary
Man in the Middle
Machine Gun Passing
Full-Court ,Two-Man Passing (One Ball)
Full-Court, Three-Man Passing
Full-Court, Three-Man Bounce Passing Drill
Three-Man Weave Drill
Defense and Rebounding
Introduction to Defense and Rebounding
Form Rebounding
On-the-Ball Defense
One-Pass Away Defense
Ball Screen Defense
Off-the-Ball Screen Defense
Two-Passes Away Defense
Zone Defense Philosophies
3-on-2 Defensive Philosophies
3-on-2 Transition Defensive Philosophies
Offensive Drills and Strategy
Introduction to Offensive Drills and Strategy
Screening
Screen-and-Roll
Around the Arc
Around the Arc: Left-Foot Pivot
Zone Offense Philosophies
Zone Offense: Attacking Gaps
Zone Offense: Passing Opposite
Full-Court, Three-Man Layup Drill
Full-Court, Three-Man Shooting Drill
3-on-2 Offensive Philosophies
3-on-2
About the Coaches

Bill Thom has been a basketball coach at Croton-Harmon High School in Croton-on-Hudson, N.Y for the last 24 seasons. He has won over 300 games for the boys' varsity squad. Thom is a veteran coach of Empire State Games and AAU teams, and has instructed players on many levels.

Jim Datka is the head boys' basketball coach of Messmer High School in Milwaukee. Having previously served as assistant coach at St. Francis College (N.Y.) from 2005-08, Datka has been the head coach at Concordia University in St. Paul, Minn.; St. Scholastica College in Duluth, Minn.; and The Hope School in Milwaukee.