Coaching Youth Soccer: Ages 4 to 6
Teach beginning players to learn and love the game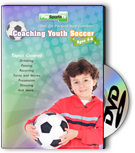 When the youngest players start with the fundamentals, you start them on their way to more fun and more wins. Instructor Nick Harrison, former coach at Hawaii Pacific University, introduces kids to basic soccer in 50 easy-to-follow, easy-to-teach drills that show the right way to dribble, turn, pass, receive, and shoot. Your purchase also includes access to downloadable training notes and coaching tips for each drill.
Coaching Youth Soccer: Ages 4 to 6
Coaching Youth Soccer: Ages 4 to 6
Topics Covered
Dribbling
Moves and Turns
Passing
Shooting
Ball Control
and more!
Perfect for Teams and Leagues
Week by week instruction for the whole season
Provides consistent training for all parents, coaches and volunteers
Great for both boys and girls' teams, clubs and leagues!
FREE PREVIEW from the Series: Coaching Youth Soccer: Ages 4 to 6
Week Three: Last Man Standing Drill
Last Man Standing
Keeping young soccer players engaged an active is vital to their enjoyment of the game. This fun team drill teaches both ball protection and the importance of moving the ball into open space.
This video is one of over forty great soccer drills in our training series, Coaching Youth Soccer: Ages 4 to 8.
This looks really great and something coaches can easily use for drills with the younger kids. Your video segments were perfect… quick and to the point.
-Coach B
Cranbury-Plainsboro Little League
Table of Contents
Preseason
Welcome!
The Perfect Practice
Preparing for Practices
Delivering Practice Sessions
Coaching Tips
Week One: Dribbling Introduction
Introduction to Week One
Space Wars Drill
Crab Drill
Stormy Weather Drill
Dribbling Drill
Week Two: Dribbling Turns and Moves
Introduction to Week Two
Four Basic Dribbling Moves
Three Basic Dribbling Turns
Follow the Leader Drill
Soda Fountain Drill
Rats and Rabbits Drill
Week Three: Advanced Dribbling Skills
Introduction to Week Three
Run the Gauntlet Drill
British Bulldog Drill
Last Man Standing Drill
Tunnel of Doom Drill
Dribble To Shoot
Stuck in the Mud
Week Four: Passing and Receiving
Introduction to Week Four
Passing and Receiving Basics
Through-the-Legs Drill
Target Ball Drill
Gate Ball Drill
Two-Headed Monster Drill
Week Five: Passing and Shooting
Introduction to Week Five
Ball-Striking Technique
Passing and Receiving in Threes
Passing by Numbers Drill
Coconut Shy Drill
Goalhunting vs. Possession
Week Six: Passing and Possession
Introduction to Week Six
Ball-in-the-Circle Drill
Get out of My House Drill
4 v. 2 Possession in a Grid
Neutral Target
Week Seven: Dribbling Under Pressure
Introduction to Week Seven
Wembley Drill
Foxes and Rabbits Drill
1 v. 1 with Passive Defender
1 v. 1 to Target
Week Eight: Advanced Passing Skills
Introduction to Week Eight
3 v. 1 to Goal
Passing and Laying Up
Passing, Receiving and Moving
Around and Back Drill
Send 'Em In Drill
About the Coach

Formerly a coach with Scunthorpe United and Liverpool University in England, and Hawaii Pacific University, Nick Harrison is a talented and experienced coach, with an MS in Sport & Exercise Science and a NSCAA Premier Coaching License. He is an AYSO Certified Licensed Instructor.